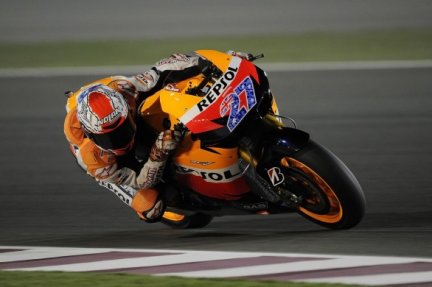 All the reactions from the riders, engineers, and team managers from the first MotoGP Free Practice session in Qatar below.
Qatar Free Practice One Results:
1. Casey Stoner AUS Repsol Honda Team 1m 55.752s
2. Dani Pedrosa ESP Repsol Honda Team 1m 56.362s
3. Hector Barbera ESP Mapfre Aspar Team 1m 56.421s
4. Marco Simoncelli ITA San Carlo Honda Gresini 1m 56.441s
5. Valentino Rossi ITA Ducati Marlboro Team 1m 56.479s
6. Ben Spies USA Yamaha Factory Racing 1m 56.493s
7. Jorge Lorenzo ESP Yamaha Factory Racing 1m 56.586s
8. Andrea Dovizioso ITA Repsol Honda Team 1m 56.592s
9. Randy de Puniet FRA Pramac Racing Team 1m 56.790s
10. Colin Edwards USA Monster Yamaha Tech 3 1m 56.879s
11. Nicky Hayden USA Ducati Marlboro Team 1m 56.910s
12. Hiroshi Aoyama JPN San Carlo Honda Gresini 1m 56.987s
13. Loris Capirossi ITA Pramac Racing Team 1m 57.366s
14. Cal Crutchlow GBR Monster Yamaha Tech 3 1m 57.429s
15. Karel Abraham CZE Cardion AB Motoracing 1m 57.821s
16. Alvaro Bautista ESP Rizla Suzuki MotoGP 1m 58.528s
17. Toni Elias ESP LCR Honda MotoGP 1m 59.087s
Ben Spies, Yamaha Factory Racing Rider, 6th, 1'56.493 (17 laps)
"Everything went really smooth, we made two major changes to the bike, one was better, one wasn't. We spent the whole time on tyres we hope are the worst for the track, a front I don't like and a harder rear and we matched our time from the test. I'm happy that we've made the bike a bit better, if we go to what we think is better with the tyres we should have a few tenths."
Jorge Lorenzo, Yamaha Factory Racing Rider, 7th, 1'56.586 (18 laps)
"Today we used a set up from last year here, I feel much more used to it so I am a lot more happy. I think if we improve the setting some more tomorrow we can really step forward. With the new chassis I can make faster corner speed here so the 2011 chassis is working well. I think we will all be closer to the front on Sunday night."
Wilco Zeelenberg, Yamaha Factory Racing Team Manager
"A very good practice for us, even when the position is not so good. The last test we did a long run and Jorge was not so happy with the set up and was a bit disappointed. Finally the improvement and changes we made today have resulted in a good test and a better feeling for him. This means he can now be consistent, that is his strong point. From now on we will be moving forwards."
Massimo Meregalli, Yamaha Factory Racing Team Director
"We had a good response on Ben's side, we used only one set of tyres during the session and it wasn't the optimum tyre so this gives us confidence. After two previous tests Jorge has now found a better set up which is promising for the weekend. All in all the team has made a good start and we are looking forward to making the next step tomorrow to get closer to our set up for the race."
Casey Stoner – 1st – 1'55.752
"We started of where we left on Monday and used more or less the same set-up – the wind is a little stronger than we had in the test but the track condition feels pretty good. We need to improve rear edge grip, this is an area we've struggled with a little so we need to improve that which will give us better turn in and exit from the corner. I'd say we're about 80% complete on the bike package, we have a few main areas we can improve, but this is always the case – you can always improve something, and if we do in these areas it will makes us a lot more confident. I did the whole session with the same rear hard tyre and I was happy with it from the beginning to the end, and this is good for the race. Finally the season has started, everything has gone fantastic so far but we need to be realistic and keep focused".
Dani Pedrosa- 2nd – 1'56.362
"I had a problem with the rear tyre that we need to understand. It's the first issue we've had this winter with the tyres, so I hope it's an exception to the rule. We started the practice very well, we were fast in the first exit and then we stayed with the same tyre, the softer compound, for the whole session. Even if I used the same compound during the winter test without any problem for several laps, today already in the second round I felt it dropped down a lot, and in the third and last one it was even worse. With only 45 minutes practice, the rounds are very short and you don't have much time to make changes. Maybe the tyre had a problem, maybe it dropped down a lot because with 125cc and Moto2 bikes on track the conditions were very different comparing with the test of few days ago, we don't know exactly. Anyway, the Grand Prix weekend just started and we will try with another tyre tomorrow to understand more. I hope we can take the best profit of both practices sessions to prepare for the race in a good way".
Andrea Dovizioso – 8th – 1'56.592
"With four days of practice it is important to manage the tyres so today we used only the hard compound to save the soft tyres for tomorrow and the coming days as I expect it will only be possible to use the soft rear tyre for the race. The biggest problem today was a vibration on the front when I released the brake and this limited me a lot because I was not able to push and lean as I wanted. We need to understand this problem and solve it as soon as possible. Tonight my engineers will analyse the data and we will see how to improve this issue. I am not happy about my lap time, but I am confident that we can improve because I feel that we have margin. Today, I'm very proud as Italy celebrates it's 150th anniversary of unity as a Country, so I have a special sticker on my helmet to commemorate this".
Colin Edwards, 10th – 1'56.879:
"I actually feel really good on the bike but unfortunately I am not quite fast enough at the moment. The number beside my name on the timesheets doesn't look that good but I'm actually better off than the charts suggest. I'm missing those crucial two or three tenths but I'm confident I can find it. We just need to get the bike to turn just a little bit better and I'm sure if we can work in that area, we'll find that time I'm losing. But I did my best lap on the hard tyre right at the end, so that gives me a lot of confidence with a couple more changes to the bike that I can be higher up. I think a lot of the guys in front of me ran the soft tyre, so the race set-up isn't that far away. I got with (Andrea) Dovizioso on the Honda and behind Valentino (Rossi) and our package is pretty strong, bu t the times tonight prove how competitive it is going to be this season."
Cal Crutchlow, 14th – 1'57.429:
"That was not easy at all and being honest, the pain from the finger is really bad and it was tough to ride. The crash was only three days ago and when I took the bandage off tonight, I learned there's some nerve damage where the fingernail was. The pain when the bandage came off was something I can't describe, so considering how uncomfortable it is, I'm pretty pleased to be where I am and doing some decent times. I was having trouble using the clutch so I modified the lever, but I was still having some problems shifting, particularly at the first corner when I kept going down to first instead of second. That was costing me time but I couldn't do anything about it. We made a change to the front-end at the end of the session that we haven't t ried since Sepang and it felt night and day different. I was much faster and felt much more comfortable because I felt like the front tyre was loaded more in the corner and I could turn better. I'm looking forward to working more with the new front-end set-up tomorrow because I believe we can make another step and hopefully the finger will be a little bit better too."
Marco Rigamonti Randy De Puniet Track Engineer
"At first we had a small problem: Randy could not change gear properly due to new boots and this has made us change our initial plans because we lost some time. He has tried the new electronics and was very happy with the response of the bike. We can be confident on the work done by our new rider, he has been experiencing the best lap time with hard tires after about 20 laps. If the track conditions are the same, he can do even better tomorrow."
Randy De Puniet – Pramac Racing rider 9th best lap time in 1:56.790
"I started today's session with some complications with the right boot that gave me some problems when changing gears down specially in the first corner. Solved this problem, we had three good outings with lap times very close to the best and this allows me to maintain a good position. The feelings that I had riding today are similar to the one I had during the last test and maintain this rate we will have a good race weekend. I am happy with how we are working, I don't have a specific goal, but be the first satellite rider and fight with some official rider would be a good start."
Loris Capirossi Pramac Racing rider 13th best lap time in 1'57.366
"I found the pace of the first day of testing, because Monday due of my slip, I was not able to make good lap times. We tried different tires, but the harder compound solution is the one that, in these climates conditions, it gives us more confidence. I do not feel satisfied, thirteenth place is definitely not our goal, but I am optimistic for the next rounds."
Alvaro Bautista:
"The words I want to say cannot be used in a press release! It was an impossible practice because we wanted to try a different setting, but I had a problem with the front brake feeling right from the beginning and after that I also had some pain in my right arm – which was probably because I had new gloves on and they were too tight – so I wasn't able to ride like I can. At the end I used the other bike, but the problem hadn't gone away. I think we need to forget today and concentrate on tomorrow because we have two more practices to improve things."
Paul Denning – Rizla Suzuki Team Manager:
"Unfortunately we wasted 45 minutes of good track time tonight and got absolutely nothing done. We had an issue that didn't come up all through the test, which meant Alvaro wasn't able to ride the bike properly. We will have to find our rhythm quickly in FP2 tomorrow and pretend that our Grand Prix weekend starts on a Friday as normal!"
Valentino Rossi (Ducati Marlboro Team) 5th, 1:56.479
"We're all pretty satisfied with this first free practice because we worked well throughout the entire session, progressively improving with each outing. We modified the setup a little compared to the test, and we immediately found it to be better, to the point that within just a few laps, I improved on my time from Monday. The last run was particularly positive and my final lap time, done with a hard tyre that had 19 laps on it, was my best, a bit more than a tenth off of second place. We know that if we want to have a good race on Sunday, we have to cut another five tenths, and we'll try to do that tomorrow. Anyway, although we still have to improve some more things on the bike, now I don't have to push so hard and it is turning better. The shoulder is holding up well. It was only at the end that it started to lose a little strength, and tomorrow we'll see how it reacts with two practice sessions. In any case, we're happy today."
Nicky Hayden (Ducati Marlboro Team) 11th, 1:56.910
"It was certainly nice to be back in action that counted a bit more. We had a bit of wind, and the temperature wasn't really high, but for as much sand as we've seen blowing around the last couple of days, the track was in great condition. The session started out pretty well. I immediately went out with a hard rear tyre and a soft front, which isn't my favorite setup, and I was able to match my lap time from the test by the fourth lap. I felt quite good, but from there, I never really was able to improve much. Obviously everybody else got quicker, so I'm not thrilled with that time. The bike was similar to how it was in the test. We've got some more opportunities before Sunday night, so we'll keep trying to improve."
Marco Simoncelli (4th 1′ 56″ 441 )
"I am really happy because it is always difficult during testing to know exactly where you are but that changes when things get serious and we are able to make more a concrete analysis. I am satisfied because we struggled to get the hard tyre working during the tests but we found something tonight. It may be that the conditions are slightly different but it is an important step towards making our choice for the race. We managed to make two changes to the set-up that improved things further and now it is just a case of confirming what we already know and getting ready for Sunday. In general I am feeling confident."
Hiroshi Aoyama (12th 1" 56″ 987)
"This was the first session of the season so I was keen to do well. We started work on finding the best set-up for Sunday and the best feeling with the bike, working from what we learned in testing. We also tried to get closer to a decision on what tyre to use for the race. The conditions are better than they were in testing and tomorrow we will try to improve on today's position, which is actually not that important because our focus for the day was not specifically on the lap time."
Fausto Gresini "Overall it has been a positive first session with Marco Simoncelli running really well, so I am happy. The lap times are good and apart from Stoner everybody is separated by just a few tenths. He tried two different settings and was strong on both but he has a preference so with a few more little modifications we will be ready for the race. Hiroshi Aoyama didn't have a bad session either – definitely better than his position suggests – so I am sure he can also have a good start to the season. We are confident and over the next two days we will be working to improve further but for now we are happy and that is very important."
Popularity: 1% [?]