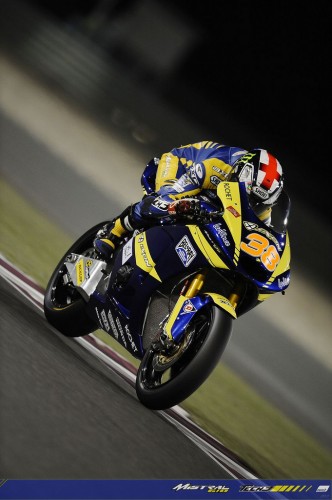 Bradley Smith had a solid Moto2 debut by taking a hard forght 9th place in the opener at Qatar.
After a tough practice session, Smith managed to get himself on the front of the third row for the race, and found himself in the thick of the action as soon as it began.
Smith was overtaken by Moto2 newcomer Michele Pirro on lap nine, but the Smith dug deep, and refused to let the Italian open up a gap as the 20-lap race unfolded. Far from settling for tenth position, Smith superbly chased down Julian Simon, closing down a 2.2s deficit on the 2010 Moto2 runner-up to pass him with four laps remaining.
Bradley Smith 9th – 7-points
"It feels awesome to have got a top ten in my Moto2 debut. I'd always set my heart on a top 15, so this is a real bonus. I feel like I earned it though because I am really tired now and the race was quite tough. Moto2 is obviously a lot more physical than 125s, so I might need to spend even more time in the gym! I learned so much in the race it was unbelievable. Those guys at the front certainly don't hang around and while I'm obviously happy with my result, we've got work to match that pace. I'd say I'm a second a lap behind them at the moment, but I also learned a lot about the bike and what we need to do to take another step. But to pass and hold off a rider as good as Julian is a great feeling too. I guess I owed him one from our time together in 125s. The Tech 3 Racing Team never stop working so I know we will have some improvements for the next race in Jerez. Tonight was as much of a test as it was a race, so we can only get stronger."
Mike di Meglio 19th
"We can't deny it was a hard weekend, but I think we collected a lot of information that is going to help make us stronger in the next few races and make big improvements with the bike. I was involved in a good fight for some of the race but I would have liked to be closer to the points. I gained a lot of experience with the bike and understood more clearly that I can improve with my own riding technique, so I'm looking forward to Jerez and working on improving the set-up I found at the recent test to get closer to the top 15."
Herve Poncharal – Team Manager
"Bradley did a wonderful job when you consider this was his first race in Moto2 and I have to pass on big congratulations to him and his Tech 3 Racing Team. He was able to pass Julian Simon, who was a hot favourite a few weeks ago for the title after he finished runner-up in 2010. And he was always fighting with some of the best riders in the world, so this is a fantastic early boost for his confidence. He was consistent all the way through the race and the experience he gained will only make him stronger for the rest of the season. Mike had a few difficulties this weekend and I think he still lacks a bit of confidence. He was fighting all through the race and never gave up and I'm pleased he was able to hold off Kallio at the end. I am positive Mike is moving in the right direction and we haven't seen anything like what he is capable of."
Popularity: 1% [?]