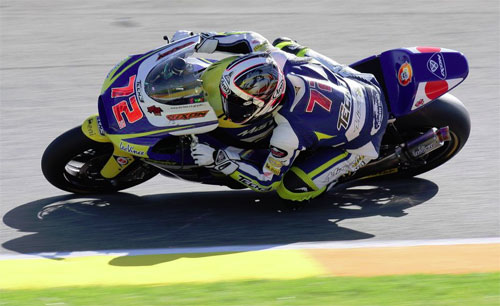 The Tech3 Racing Team ended the inaugural Moto2 World Championship campaign in disappointing fashion this afternoon after Yuki Takahashi and Raffaele de Rosa were unable to score points in the final race at Valencia.
Japanese rider Takahashi signed off the season in 18th position, a result that unfortunately saw him slip outside of the top ten in the final World Championship standings.
Takahashi was unable to find a confident setting with the front-end of his Tech 3 Racing machine and despite a determined ride he was unfortunately able to mount a challenge for the point-scoring positions.
Italian de Rosa also had a frustrating end to the 2010 campaign. He was unable to celebrate his 100th Grand Prix appearance with a top 15 result as he too found it a difficult challenge to find a comfortable front-end set-up. He finished the 27-lap race in 24th position.
The Tech3 Racing Team will begin plans for the 2011 Moto2 campaign tomorrow (Monday) in Valencia with Bradley Smith and Mike di Meglio joining the French squad for the opening winter test session. Tech 3 MotoGP rider Colin Edwards will also test the bike tomorrow, the American keen to offer some of his vast experience to help the Tech 3 Racing Team commence development on next year's machine.
Yuki Takahashi 18th- 86 points
"That was a very tough race and not the way I wanted to finish the season or my great experience with the Tech3 Racing Team. I had a bad start and unfortunately the only way I was able to make up some places was because a few riders crashed out. I just couldn't be aggressive on the front and each time I tried to push I kept running wide. Unfortunately I dropped out of the top ten in the rankings too and that is a shame, but I've had a fantastic experience with Tech3 Racing and my victory in Catalunya was a historic moment for the Team. I'm happy to have played a part in that special moment and I wish Herve Poncharal and the crew all the best for the future."
Raffaele de Rosa 24th – 15 points
"That was a very difficult race and I didn't expect to finish the season in this way. I had big hopes for the race and was feeling positive that I could be in the top 15 but unfortunately I couldn't find a good feeling with the front, especially going into the corners. I want to thank my crew at Tech 3 Racing because they have worked really hard all season and given me tremendous support throughout. We never gave up even in the difficult moments and I am sure the team can build on the information gained this season to have a successful 2011."
Herve Poncharal – Team Manager
"We had hoped to have a much stronger finish to the season than we did and it is disappointing not to score points in the final race. I can't fault the effort and determination of Yuki and Raffaele but that was a very disappointing way to end our story with them. Now we look forward to tomorrow when we begin testing for 2011 with Bradley Smith and Mike di Meglio. Bradley arrives at Tech 3 Racing full of confidence after a fantastic win in the 125 race and I want to pass on my congratulations to him. His performance today only gives me more confidence that Bradley will be a great asset to the Tech 3 Racing project. I am sure with Bradley and Mike together that we can have a competitive 2011."
Popularity: 1% [?]