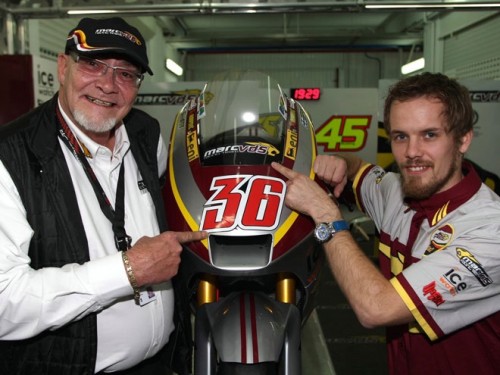 How long has Mika Kallio been gone for? I thought it was just two races, but by the look of that beard he looks like he's been missing for a couple of years and was found living feral in a homemade shelter in a Finnish forest.
Anyway, despite the questionable beard – Mika Kallio will be back out on track today as a Moto2 rider for Marc VDS. Kallio will partner with Scott Redding for the 2011 Moto2 season.
Kallio's choice to join Marc VDS was influenced by their future MotoGP aspirations with Mika Kallio himself saying "The fact that the Marc VDS Racing Team are committed to stepping up to the MotoGP class in the future is also a very positive thing".
Michael Bartholemy: Team Manager
"We are very happy to have signed a rider of Mika's undoubted calibre. His track record in Grand Prix racing is an enviable one and he knows what it takes to fight for a World Championship, having done so in the 125cc class. Mika's experience will be invaluable to Scott Redding as he continues to develop as a rider and I'm confident that, together, they will form a formidable partnership in 2011."
Mika Kallio #36:
"I had quite a few options in Moto2 for next year, but with Marc VDS I know I've found the right team for me. Their results in the second half of the season show clearly that they are one of the top teams on the grid and with them I know I can make good results next year. I'm sure there are some people who think this is a step backwards for me career wise, but I disagree. I think it is a great opportunity for me and I know that with this team I can be back at the front once again. The fact that the Marc VDS Racing Team are committed to stepping up to the MotoGP class in the future is also a very positive thing for me, as I still feel I have unfinished business there. Now I just need to get a feel for the Suter MMX, starting tomorrow morning with my first test aboard the bike."
Marc van der Straten: President, Marc VDS Racing Team
"In Mika we have an experienced campaigner who is still hungry for success. We spoke to a lot of riders about 2011, but Mika's determination made him the stand out choice for me. Tomorrow Mika celebrates his 28th birthday by riding our bike for the first time at Valencia and I am confident it will not take him long to make the transition to the Suter MMX Moto2 machine. Mika will be the second Finn to join Marc VDS family, as his compatriot Markus Palttala already contests the GT1 World Championship in one of our Ford GT cars."
Popularity: 1% [?]