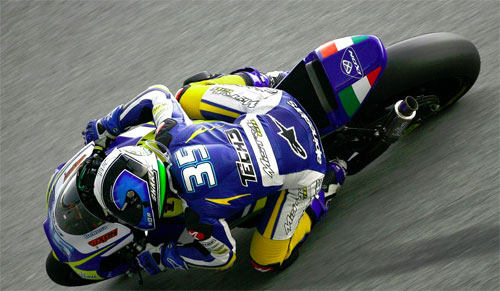 Tech 3 Racing Team duo Yuki Takahashi and Raffaele de Rosa will start tomorrow's Malaysian Moto2 race in a positive frame of mind despite a tough qualifying session at the long and technical Sepang circuit.
Having lost crucial set-up time yesterday when rain disrupted opening free practice, Takahashi and de Rosa found it difficult to find a comfortable setting in baking hot conditions during a qualifying session that was staged in punishing temperatures that hit 37 degrees.
Japanese rider Takahashi, who claimed a brilliant top six finish in his home race at the Twin Ring Motegi six days ago, sought to improve turning performance with his Tech 3 Racing machine. Despite making big progress with front-end feeling, Takahashi's best time of 2.09.852 left him only 18th on the grid.
It was a different challenge that de Rosa tackled head on, the Italian concentrating on improving rear grip for the majority of the day. With track temperatures peaking at 56 degrees, today's session was all about finding maximum rear grip for tomorrow's 19-lap race.
A best lap of 2.09.900 left de Rosa two places behind Takahashi in 20th.
Yuki Takahashi 18th 2.09.852 – 16 laps
"It has been a very difficult weekend so far. Losing a lot of track time because of the weather yesterday didn't help but we have struggled to make the bike turn. We tried some different settings without really finding a positive solution this morning, so we reverted back to the base setting for qualifying and the front-end didn't feel too bad. I'd still like better turning and we'll try another change to the front in the warm-up to see if that helps. But with the hot conditions and where I am on the grid, it is going to be a long and tough race. My target though will be to fight through into the top ten."
Raffaele de Rosa 20th 2.09.900 – 17 laps
"The hot weather and the condition of the track has meant I've been struggling for rear grip all weekend. I have too much wheelspin and while we have improved it a lot with various set-up changes, it was still not enough to move me closer to the front. We understand the direction we need to take and I know we can make the bike better for the race. It will be difficult to finish in the top ten but I will never give up and always try my best for the Tech 3 Racing Team."
Popularity: 1% [?]