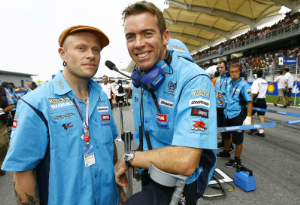 Life's alright as a popstar – Keith Flint from The Prodigy got to travel as an honorary member of the Rizla Suzuki MotoGP team for the Motegi and Sepang GPs.
Keith Flint often shows up on BBC coverage walking around the starting grid for a couple of races a year, but this time he actually got to travel with the team and hang out with them in the garage and basically became their tea and coffee boy.
"I'm the coffee-starter, twisted coffee-starter…"
Apparently even Valentino Rossi tracked im down to have his photo taken with him.
Keith Flint said of his experience:
"I've had a mega time with the boys at Rizla Suzuki and they all made me really welcome. I managed to pick up quite a few tips and insights that will help with my own riding when I use my Suzuki GSX-R at track-days in the future. I've been to Grands Prix before, but these two races gave me a whole new insight to what the teams do. I was only watching what was happening, but I left the track every day absolutely exhausted, so I just don't know how these guys do it! I hope that my tea-making services were up to GP standard, as I hope to be invited back to join the team again in the future!"
Popularity: 3% [?]