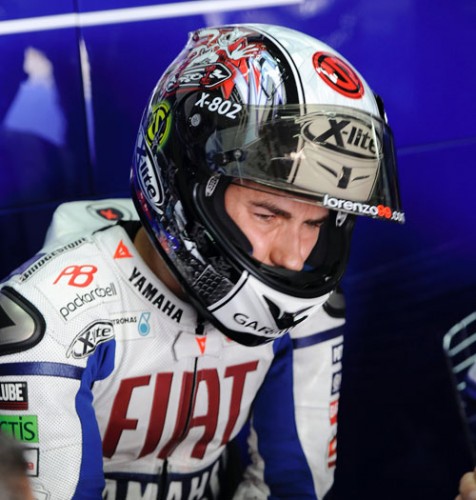 Practically all the riders at the Spanish MotoGP at Aragon had some form of tribute to Shoya Tomizawa on display – a sticker on the fairings, the number 48 on their leathers etc…but Jorge Lorenzo went a step further and wore a full Shoya Tomizawa replica helmet for the qualifying session today (photo above).
Lorenzo ended the session on the front row in 2nd place, but will face a challenge in the race tomorrow with Casey Stoner sitting in pole position (and back on form), and a fast Dani Pedrosa one place behind him in 3rd.
Valentino Rossi struggled throughout the session and will start from 7th position.
Jorge Lorenzo – Position: 2nd Time: 1'49.251 Laps: 21
"I'm riding well and I am happy about how I have improved my riding style in every practice to better suit this new track. I also understand the track better on every lap so this helps me to be faster. We are losing some time on the straight at the end of the lap so we have to be very strong in all the other parts to try to make up for it. We can't do anything about this so it's important that I know how to ride the rest of the track perfectly. I think tomorrow could be quite an exciting race for us and for the fans and for sure it will be a hard fight for me, but I will do my best as usual to get on the podium."
Valentino Rossi – Position: 7th Time: 1'50.017 Laps: 20
"This morning was a bit of a disaster! This afternoon things were a bit better but we are still not that fast. Unfortunately, with the softer Bridgestone tyre at the end for my fast lap I made a small mistake and lost half a second, otherwise I think I could have been fourth. Now we have to start from the third row and the start of the race will be very important because I have to try to improve my position and stay with the leaders. We have some ideas and we will use the warm-up to try to find a way to improve our pace. It will be a hard and long race but we will do our best."
Popularity: 11% [?]