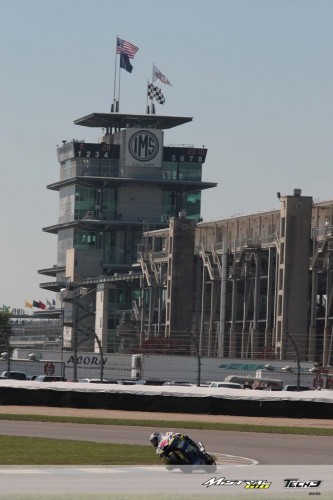 Both Tech 3 Moto2 riders had their weekend shortened by the crashes that took place at Indy.
The first ever Moto2 race at Indianapolis was shortened to 26-laps after two separate incidents at the second corner forced the marshalls to red flag the race.
Restarted over a shortened 17-lap distance, Takahashi and de Rosa were looking strong contenders for top ten finishes when they crashed out of an incident-packed race held in scorching hot conditions.
Yuki Takahashi 26th – 72-points
"It was a bit hectic today to say the least. I didn't make a good start for the second race and I needed to be more aggressive to make up more places and get myself into the top ten. I was reasonably happy with my pace and felt as the race wore on that I could come through for a top ten. But Rolfo hit me and that ruined my afternoon. It was like in Germany recently when another rider took me out. But unless you get a good start and are at the front right from the start, you can get caught up in that type of incident. I'm determined to bounce back in Misano next weekend and finish the year strongly."
Raffaele de Rosa DNF – 1-point
"It is another disappointing result and I'm not happy with the outcome of today's race. We had high hopes because all weekend I was able to set some competitive lap times and the bike was much better than previous races. I was pretty happy with my pace and confident of scoring my first top ten when I hit a bump at turn ten and crashed. It is a big shame but I know we are faster than before and we have found some more speed. This is a good sign for the rest of the season. But I just need to finish races, starting with my home race in Misano this weekend."
Herve Poncharal – Team Manager
"There were a lot of crashes in that race and unfortunately both Yuki and Raffaele were also unable to finish an eventful race. We are obviously disappointed because at one stage it looked like we might have both of them fighting for the top ten, and this would have been a great result for the Tech 3 Racing Team. Yuki wasn't in a great position but he was confident he could get stronger in the second half of the race when Rolfo touched him from behind and they crashed. There was nothing he could do about that and it was unfortunate. Raffaele was looking like he could achieve his first top ten result and this would have been fantastic for his confidence and a good reward for his Tech 3 crew. But unfortunately he was unable to finish again and I am disappointed about that because he could have scored some good points. The positive point is both of them are fit and the whole team will try and make amends in Misano next Sunday."
Popularity: 1% [?]