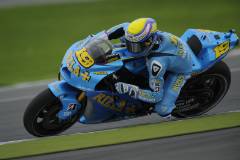 Alvaro Bautista has announced that he will be appearing at Brands Hatch for the BSB race on 7th and 8th August as a special guest.
Bautista will be performing some high-speed demo laps on his Rizla Suzuki GSV-R MotoGP bike on the Saturday and the Sunday, for the fans.
Álvaro Bautista:
"It will be interesting for me to go to Brands Hatch because I have never been there before and it is such a famous track. It will be good to learn another circuit and to visit a totally new place. To have new experiences like this is always good and it will be interesting for me to ride the bike and get more of a feeling for it at different places. I am looking forward to doing the demo run and showing the British fans that have never seen a MotoGP bike just what it is all about."
Paul Denning – Team Manager:
"We are delighted to be able to support Suzuki GB in their 50 years of racing celebrations and to bring the sight and sound of a fully-blown MotoGP bike to the Brands Hatch BSB race. This is a great opportunity for Suzuki to showcase the GSV-R's technology and incredible sound in-front of a different audience. The link between the MotoGP bike and the Suzuki GSX-R – which is celebrating its 25th anniversary – is evident in their racing ancestry, so to see the two machines together at one event will be very special – albeit one will be racing for victory in the hands of Tommy, Yukio, Michael and Alistair and the other will just be ridden slightly less aggressively on its demo laps!
"Álvaro is looking forward to riding the Brands Hatch GP track, he's heard a lot about it and I'm not sure if he's scared or excited, but I'm positive he'll let the Rizla Suzuki GSV-R rip and provide great entertainment. MSV put on a fantastic show last year and we hope we'll be able to make it even bigger and better this year. There'll be another rider or two experiencing the Rizla Suzuki MotoGP GSV-R for the first time as well – so watch this space for details!"
Popularity: 1% [?]