Alex de Angelis has put pen to paper and joined the Moto2 series for Team Scot for 2010 – De Angelis will team up with another ex-MotoGP rider Niccolo Canepa. De Angelis has only signed for one year as he has stated that his goal is to return to the MotoGP class for 2011.
Alex de Angelis said:
"Next year I will race with Scot Moto2 in a team structure that is practically all San Marinese. The headquarters of Cirano (Mularoni, Team Manager) is no more than 500 metres from my home and I worked with the chief mechanic (Pietro Caprara) in my last two seasons in 250cc. As a team base, it is very encouraging. The contract is only for one year because the aim is to return to MotoGP as soon as possible."
"I am happy to collaborate on a project where I am the standard-bearer of my nation. As well, in a sense, I could define the Scot Racing Team as my home team: I know everyone for years and some of them drink their coffee in my own bar!
"They won two world championship titles and now we are working together to build a winning project in 2010, a prelude to my return to MotoGP the following year".
Cirano Mularoni (team leader) stated:
"We've been thinking of Alex de Angelis as a potential rider for our team for a long time. We will start in Moto2, an innovative class, having secured a World title (in the 250cc class with Hiroshi Aoyama) and our team aspires to have the strongest rider line-up."
BEIGE ALERT!: Alex De Angelis and Cirano Mularoni sealed the deal by shaking hands while dressed in traditional San Marino costumes. Both men then donned ceremonial slippers and were seen smoking a pipe in a nearby shed. Sadly the positive day ended prematurely when the grandfather of Alex de Angelis showed up in his mobility cart and demanded his clothes back.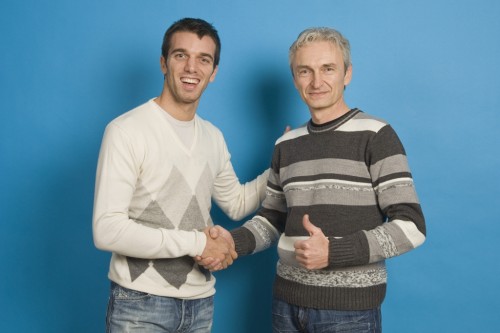 Popularity: 1% [?]