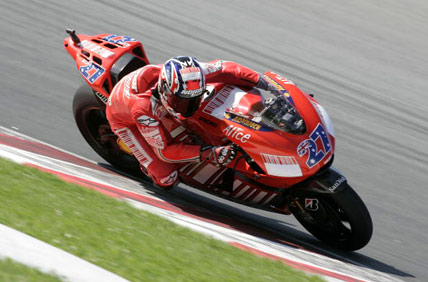 After much 'will he or won't he' speculation, and the growing stories that Casey Stoner was not happy about certain aspects of the Ducati team, it has now been formally confirmed that Stoner will be racing at this weekend's MotoGP in Estoril. All eyes will be on Stoner to see if he can instantly regain his form, and despite the public messages of support from the Ducati team it's clear that the pressure will be on Casey. MotoGP fans will be wanting a good show, and despite some decent battles between Rossi and Lorenzo, it will be nice to see another bike potentially challenging for the top spot – assuming that Casey can maintain his strength over the course of the weekend that is.
Recent medical reports revealed low blood pressure and a lack of sodium, which was believed to be the primary cause of Stoner's health and fitness problems. Although not 100% fit, Stoner will be back on track at Estoril under a new sodium-rich diet. There is no doubt that this weekend will be tough, but if Stoner suffers like he did in the last few races before he took his 3 race sabbatical, then the questions raised will be bigger then ever.
Casey Stoner said:
"I'm definitely looking forward to the race weekend. Having three races off is the biggest period away from racing in my life. It was very difficult to accept the advice of the doctors to stop racing. In the past I have raced even when injured, like in the last few races of the 2008 season when my wrist was broken, but this time it was really not possible and of course I felt very sorry for the team. "
"Now I'm looking forward to getting back together with the team and everyone and I hope I'll be able to be more competitive than I was in the past, but we will have to wait and see. The doctors have put me on some salt tablets to increase my sodium levels but we will have to see if it helps. We will understand more during the weekend. Of course it's going to be difficult: at first we won't know if it will work because I've been off the bike so long that in any case my muscles will take some time to get race fit again. But, as I said, I'm looking forward to getting back and to starting work on the bike, looking towards the future."
Livio Suppo said:
"We are really pleased that Casey is back with us. We never had any doubt that he would be with us once again at Estoril. We know that he is still not in 100% peak fitness and we just hope that over the last four races of the season he can gradually build his strength and work with Nicky to help Filippo develop the bike.
"With that goal in mind we have a few new things to try this weekend, in particular a new fairing which is designed to make the bike handle better in strong winds and fast direction changes. I really hope Nicky's luck turns around after Misano because his season has got gradually better and I'm sure he'll keep that trend going this weekend."
Popularity: 1% [?]