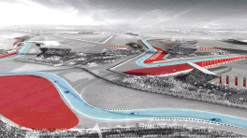 The Silverstone press and PR machine roared into life the very second that the chequered flag came down on the 2009 Donington British MotoGP.
Silverstone will host the British MotoGP from 2010 for the first time since 1986 – and has announced that it has already sold £50,000 worth of tickets for the 2010 event. Silverstone is also claiming that track modifications will ensure that the circuit will be faster than Philip Island for the MotoGP riders – which would make it the fastest track on the MotoGP 2010 calendar.
Silverstone's managing director Richard Phillips spoke at a Press Conference today:
"We cannot wait to see MotoGP back at Silverstone. The series is returning to the Home of British Motor Racing for the first time since 1986 and it's going to be a fantastic occasion for everyone involved – riders, teams and, most importantly, the fans.
"Silverstone is the UK's premier motor sport venue and we are continuing to develop it into a world class facility for two and four wheeled racing. A further £7 million is being invested before March of next year – more than £5 million of which is being spent on improving the viewing experience for fans, and developing the circuit for MotoGP.
"We'll have an exciting new circuit; new spectator areas, getting fans closer to the action; and a spectacular line-up of off-track entertainment, including interactive experiences, bike displays and concerts.
"We have an incredible team here at Silverstone, with unrivalled experience of organising world class events, and we'll be putting on a real show for the fans next year. We are confident of delivering a memorable MotoGP experience, at more affordable prices."
"In the past Silverstone has been set up more for cars, but now we're going to cater for bikes as well."
It was also announced that track modifications will be made in order to make the circuit mush faster for the British MotoGP. The new circuit, which will feature a spectacular new section of track running from the approach at Abbey corner to a tightening 'Arrowhead' hairpin at the inside of Becketts, will measure 5.67 kilometres in length – 0.53 kilometres longer than the existing 5.14 kilometre Grand Prix circuit.
Scientifically measured data, based on mathematical simulations, has calculated that the average lap time for MotoGP riders around the new track would be 1:51.456, racing at an average speed of 182kph (113mph) – 3kph faster than Phillip Island, which is currently the fastest circuit in MotoGP.
The fast and flowing new track, which is subject to final homologation, looks set to be equally quick for four wheeled motor sport. Despite the new circuit being more than half a kilometre longer than the existing Grand Prix circuit, simulated data has shown that lap times for a current Formula 1 car would only be fractionally slower. A simulated lap of the new circuit would take 1:27.761 in an F1 car, at an average speed of 228kph (142mph).
*Summary of data showing circuit length, lap times and speeds around the new track at Silverstone:
New track length = 5.67km (existing Grand Prix circuit = 5.14km)
Track width = 15m
Simulation for F1 lap time = 1:27.761, average speed 228kph (142mph)
Simulation data extrapolated for MotoGP = lap time 1:51.456, average speed 182kph (113mph)
MotoGP speed is 3kph faster than Phillip Island, currently the fastest circuit on the MotoGP calendar
Popularity: 1% [?]