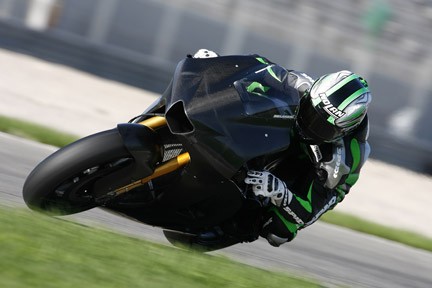 Kawasaki have announced that they will be running a one bike team with Marco Melandri and the sole rider for 2009.
A statement confirmed the team's return to the sport comes in the wake of "constructive talks between Kawasaki, MotoGP organisers and other involved parties".
Kawasaki Statement:
"This decision was made after negotiations that followed Kawasaki's January 2009 announcement to suspend its MotoGP activities due to the economic crisis," the statement continued.
"The rider for the new MotoGP team will be Marco Melandri. The team will be equipped with Kawasaki motorcycles and supporting materials.
"That Kawasaki have come to this new team approach is the result of, on the one hand, the need for a strong reduction of MotoGP racing investments and, on the other hand, the necessity to come to constructive solutions for all related parties."
John Hopkins is not part of Kawasaki's MotoGP plans.
Popularity: 1% [?]